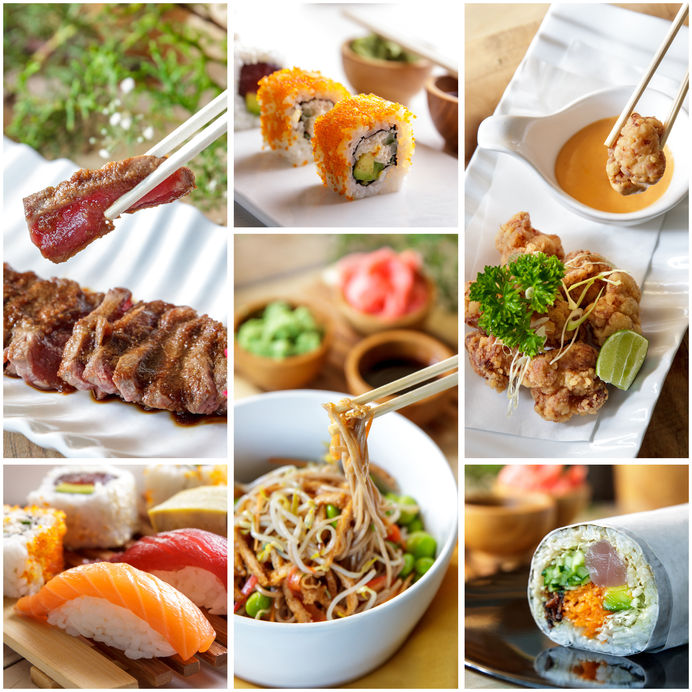 When travelling, there are the sights to see, the things to do, and the dishes you must eat! Here are the 10 dishes you must try when visiting Japan - try not to drool!
1. Okonomiyaki
Somewhat of a pancake/ teppanyaki hybrid, okonomiyaki is Japanese comfort food at its best. Literally translating to "grilled as you like", you can pretty much throw anything into this savoury pancake. Commonly filled with cabbage, pork, and other vegetables, it's cooked on a hot plate before being slathered with a good dolloping of Japanese mayonnaise and tokatsu sauce. There are different variations in different cities; for example in Hiroshima, the batter is layered with noodles. We do feel the best part of this are the sauces, but we also love that you often get to cook it yourself at a hot plate on your table.
2. Oyako-don
Another dish that seemingly bucks the trend of Japanese foodie stereotypes, oyako-don is a bowl full of eggy, saucy goodness. While it's literal translation seems a little grim ("parent and child bowl"), the dish is anything but. A type of donburi, oyako-don is basically sautéed scallions, onions, chicken, and eggs cooked in a rich broth and served over rice.
3. Katsu
Katsu (the Japanese word for cutlet) comes in many forms, and can be served many ways. But one thing's always constant: it's always deep-fried, and it's always comfort food best served on a cheat day. Curry katsu might be our favourite form, with a deep-fried and panko coated pork or chicken fillet, doused in Japanese curry (more rich and sweet than your typical Asian or Western curry) and served on a bed of rice. Otherwise, try it with the delicious, useful-for-anything tonkatsu sauce. Hangover cured.
4. Sashimi/ Sushi
You couldn't really have a list of Japanese foods and ignore sushi, despite it being arguably the most exported dish Japan has gifted the Western world. But real sushi in Japan is something else entirely. Fish, fresh off the boat, is sliced thin and served raw on a sphere of rice, without the cucumbers, and the deep-fried chicken and the mess of seaweed that has come to epitomize Western sushi. For the best, freshest sushi, head to the ancient Tsukiji Fish Market in Tokyo, where the price is higher but the quantity is unbeatable. If you're extra game, wake up before sunrise and try and catch the famous fish auction. Once you try sushi here, you'll never be able to eat a California roll again.
5. Melon pan (bread)
Behold, what might best be the best-kept secret of the Japanese culinary world: melon pan. Be it sprinkled with sugar, dotted with chocolate, or simply served plain, this pillow of bread is as synonymous with a Japanese bakery as baguettes are to the French. Does it actually taste like melon, you ask? Not at all. In fact, a quick Google search throws up the information that not only does it not contain a trace of the fruit; it doesn't contain a trace of melon flavouring either. So while our illusions are hereby shattered, we'll still always make a beeline for this sweet pillow with its crunchy crust and delightfully chewy interior.
6. Yakisoba
Literally meaning "fried buckwheat" this might be the most simple of all Japanese dishes to recreate in your own kitchen. It's basically a glorified noodle stirfry, with crisp vegetables, your meat of choice, and a healthy dousing of soy sauce. It's a popular one at markets and street stalls in Japan.
7. Udon
Perfect for a cold, rainy day, this bowl of steaming hot broth is Japan's quintessential noodle soup. Walloping thick noodles are added to a rich broth, made from dashi, soy sauce, mirin and sugar, before vegetables and a few slices of pork are placed on top. Finish with green onions, maybe some karrage (deep-fried) vegetables, and a sprinkle of chilli and you've got yourself the perfect winter warmer.
8. Ramen
The dish that birthed the noodle for fast-food style Western consumption, the Japanese ramen bowl is so much more than a pack of 2-minute noodles requiring only a cup of hot water. Ramen noodles are added to a rich broth (similar to udon broth, but often richer and more syrupy), with half a hard-boiled egg, some meat, seaweed and maybe a fish cake. There's a reason this is one of Japan's most cherished dishes, and the wealth of tiny ramen shacks lining any city in the country means it might be the easiest dish to find too.
9. Tempura
We're always in wonder at the size of Japanese people and their low levels of obesity considering how many of their national dishes are deep-fried. But we digress, because tempura is delicious. The light and fluffy batter-coated seafood and vegetables are usually fried in sesame oil and served with soy sauce for dipping. Ebi (prawn) tempura is our favourite, but daikon (radish) makes for an interesting vegetable alternative.
10. Shabu Shabu
Bring your friends, bring your family: this is a dish you're going to want to have a group around for. You'll be served up a huge bowl of bubbling broth, and platters upon platters of thinly sliced beef and pork and vegetables, which you throw into the cauldron and cook yourselves. Shabu-shabu is actually the Japanese onomatopoeia for the sound the meat makes when it's being swished around in the broth – so don't be shy and get those hands swishing vigorously.