YOU Travel Whangarei's Adventure Consultant, David Moss, is travelling through Las Vegas to Mexico with a final stop in Cuba. Here is the first leg of his journey through Sin City, Las Vegas.
Three nights in Vegas - WINNING!
This whole trip started with one of those flippant comments between me and my old high school mate, just as we were finishing the final painful leg of our Abel Tasman park trek. "So where too next year?" I ask. His reply - "Let's do something that DOESN'T involve walking! What about Vegas????"
The first trick in beating the odds of Sin City, is to pick the days of the week of your stay. Sunday through to Thursday nights are a bargain, whilst Friday and Saturday nights require you to take out a second mortgage. Getting the days of the week right meant we paid just over NZD$60 per room per night for a three star hotel. (We could have paid around $190 a night for 5 star luxury - I seriously considered it!)
I had chosen the "D Hotel", downtown Las Vegas specifically for the location. The doors of the "D" open directly onto Fremont street, and what is known as "The Fremont Experience" - and it is that and more! Fremont pedestrian street is one big party! Right outside our hotel doors, the "D" hosts a rock concert each night with some pretty talented cover bands. The whole 1500 foot long experience is covered by the largest screen in the world that projects spectacular sound and light shows, in technicolour splendor.
At intervals down the street is a different performance. Elvis is singing his ballads and then further down it's an 80's hair rock band belting out Rock of Ages. Hundreds upon hundreds of people, Go-cup drink in hand, milling around enjoying the atmosphere. Street entertainers and "photo-op" cosplayers were everywhere, and no shortage of scantily clad young ladies (or guys for the ladies) to pose with. It's a cacophony of sound and sights, and a hell of a lot of fun!

Any trip to Vegas has to include a show. At any one time there are nine or more Cirque du Soleils on in Vegas, a number of headline acts (Celine Dion, Britney etc), a myriad of cover shows, and comedy acts galore. We chose the "Carrot Top" prop-comedy show, "Laugh till your hair turns orange". For US$99 each, our seats were three from the front and in the center. Perfect! The show was a riot! The cynical curly topped red-head had a twisted sense of humor, with a show that was made up of one-line gags around multitudes of ridiculous props that he had devised himself. Think "baby carrier for rednecks", and he pulls out a baby doll strapped to a beer carton. It was original and hilarious!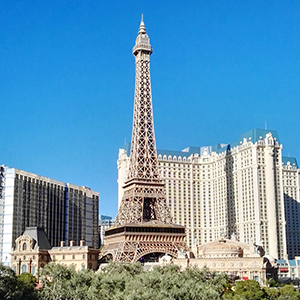 But the time comes when you have had enough of the party and the one-liners, and you need to get down to the serious Vegas business of gambling! The best gambling is on "The Strip", twenty minutes by cab from Fremont. This is where the big casinos are, housed in the most audaciously lavish hotels that you can imagine. The Luxor, a behemoth black glass pyramid that cuts a striking shape on the Vegas cityscape. The Paris hotel with a replica Eiffel tower dominating the street view on the Strip. Then there is the Bellagio, and its famous fountains. When they erupt and dance to music, the whole street stops and stands to watch!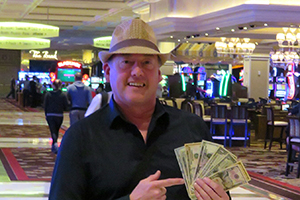 The Bellagio Casino felt good, a little quieter, a little classier - sleek Italian style (or as much as this gaudy city will allow). We headed for the Black Jack tables and at the end of our evening (2am in fact) we had more than doubled our money! We had beaten the house at the Bellagio! Our job here in Vegas was done!
Click here to follow David's next adventure to Mexico!