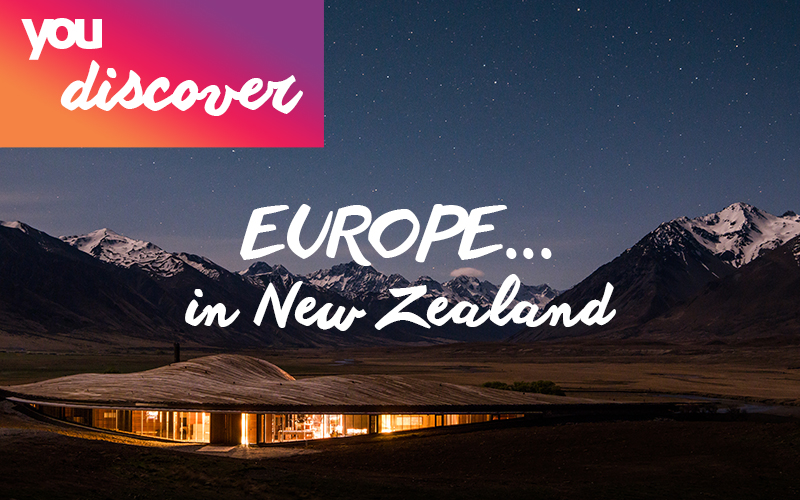 Do you find yourself dreaming of Europe?
You deserve a holiday, and New Zealand has the captivating sights and tastes that you are looking for, just closer to home! Let us bring Europe to YOU, and discover our beautiful backyard with these alluring places that are reminiscent of the glossy brochures of Rivieras and Fjords you've been studying.
They're all like Europe, but they're here in New Zealand with
YOU
.
Murano in Venice
TAKAKA IN NELSON TASMAN
It's like Murano in Venice, but it's Takaka & Golden Bay in the Nelson Tasman! Discover the vastly skilled artisans of this beautiful region, from tantalising tastes through to unique art pieces and exquisite jewellery!
The South of France
WAIHEKE ISLAND
Bring the South of France to YOU and take a visit to Waiheke Island! From outstanding vineyards, through to beautiful coastal scenery and exquisite European flavours, it's all here in New Zealand!
Swiss Alps
SOUTHERN ALPS
Find yourself winding around towering mountains and over tall bridges spanning lakes and rivers. Although reminiscent of the Swiss Alps, this isn't the Bernina Express of Switzerland, this is the TranzAlpine right here in the Southern Alps of NZ!
Italian Dolomites
MACKENZIE DISTRICT
Dreaming of the Italian Dolomites where the mountains trail down to unbelievably bright blue water? Well, this is pretty much it! Lake Pukaki, Aoraki, Mount Cook - it's all here in the South Island! The scenery that makes Italy famous, but just down the road.
Ready to discover New Zealand?
Click here for our best deals
Be the first to receive these great deals and
subscribe today!
Image Credits: The Lindis, Tourism NZ; Takaka Images- NelsonTasmanzNZ; Waiheke Images - VisitAuckland; TranzAlpine Images - The Great Rail Journeys of NZ; Mackenzie Images - Tourism NZ (Fraser Gunn, Julian Apse)