As a child, I spent many holidays in Rotorua and always knew it was a great destination for families with the luge, Rainbow Springs and an array of adventure activities. It had been many years since I'd been back so when my Aussie friend told me she was coming to stay I thought it was a good chance to take off for a weekend and play the tourist.
When that distinct sulphur smell hit, I knew we had arrived.
Hells Gate
If you're looking for some relaxation there are plenty of hot pool experiences however we thought we'd get down and dirty with a mud experience at Hell's Gate Geothermal Park and Mud Spa. You may have had a facial mud mask before but sitting in a hot pool covering your whole body in mud is definitely the way to do it. When you're done and showered off sit back and unwind in the Sulphur Spa. You can't get more relaxing than this, just make sure you wear old swimwear as the colour and smell will never be the same.

Artist Palette, Wai-O-Tapu
Wai-O-Tapu Thermal Wonderland
My friend has lived and travelled all over the world and had never experienced geothermal activity so the bubbling mud, geysers and hot pools (not the ones you swim in) were something she will never forget. As a child, it seems I really didn't appreciate how spectacular this wonderland is. There is the option to take the first track for those short on time or if you're wanting a bit more of a hike add on tracks 2 and 3; either way you will have a truly unique experience.

Wai-O-Tapu: Champagne Pool, Lady Knox Geyser, View of Frying Pan Flat
Redwood Treewalk™
For a bit of soft adventure suitable for all ages, get a bird's eye view of these 115-year-old redwood trees as you walk across 28 suspension bridges up to 20 metres above the forest floor. I would highly recommend going early evening to get the best of both worlds. In the light, you can see how truly impressive these trees are and see just how high up you are. As darkness hits, the forest is magically lit with laser-light animation as well as beautiful lanterns designed by world-renowned designer David Trubridge. Although this is said to take 40 minutes there is information to read along the way so you can make it last well over an hour.

Redwood Nightlights™
Where to Eat
Rotorua is not short on eating spots and with a town full of Māori culture I had to have my friend experience a hangi accompanied by a can of L&P. We also had time during our stay to visit the popular Eat Streat, a closed-off pedestrian section of the road with a fantastic variety of restaurants, bars and even an ice-cream parlour. The markets are also worth a visit with the night market on Thursday evenings and the farmers market on Sunday mornings.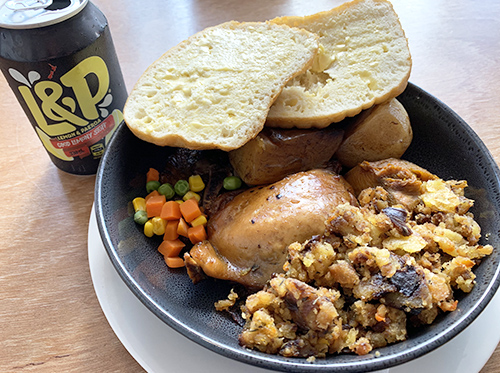 Rotorua is a spot that can be enjoyed by people of all ages, with different experiences each time you return. I definitely won't be leaving it so long until I go back.
Contact your local YOU Travel store for the latest deals to Rotorua.