Looking for somewhere 'new' to go in Australia? We've found just the place. It has incredible beaches, delicious dining, family-friendly fun and historic wineries. It's NSW's best-kept secret … until now.
Swap your jackets and tights for jandals and togs as you stroll along soft, white, sandy beaches. Indulge in fine food and exquisite wines at vineyard restaurants or step up the pace at throbbing bars, museums and city lights – all three and a half hours from Auckland.
Virgin Australia's new direct flights from Auckland to Newcastle begin on 21 November. Landing at Newcastle Airport, it's only a short drive to the best of New South Wales' city, country and coastal experiences – the urban buzz of Newcastle, the rural delights of the Hunter Valley and the seaside playground of Port Stephens.
Hit the town
The fun starts in Newcastle – "Newie" to the 300,000 locals – a thriving metropolis with cool cafés and glorious beaches. NSW's second-largest city has undergone a makeover in recent years, into a spectacular melting pot of lifestyles. It's now known for its strong arts scene, myriad dining options, city atmosphere, family attractions and eclectic nightlife. Bohemian culture exists alongside surf culture; hip cafés and award-winning restaurants flank a major industrial port.
Clever repurposing has transformed heritage buildings such as the railway workshops that have become the city's new museum, or the 1885 Toohey's Brewery warehouse that has become The Grain Store, hub of Newcastle's thriving craft beer scene. If cocktails are your thing, make a beeline for Coal & Cedar.
Arts projects, festivals and events have transformed five inner-city precincts – part of a 25-year plan to revitalise Newcastle, shoring up its position as a vibrant regional capital of creativity and cool.

Explore Civic, Cooks Hill, East End, West End and the harbourside Honeysuckle development, where you'll find The Landing Bar & Kitchen and MoneyPenny, both ideal for a romantic evening, catching up with friends, a quick bite or chilling over high tea, tapas, yum cha, sipping wine or cocktails. Few cities in the world can claim a CBD surrounded by eight beaches. Tick them off by wandering Bathers Way, a 5km walk from the lighthouse at Nobbys Headland to the coastal wilderness of Glenrock Reserve and the early coal workings at Burwood Beach. You'll pass Fort Scratchley, the only fort in Australia to have engaged the enemy in an attack from the sea. Be sure to take time out to relax on the terrace at a seaside venue like Merewether Surfhouse, with spectacular ocean views up and down the east coast.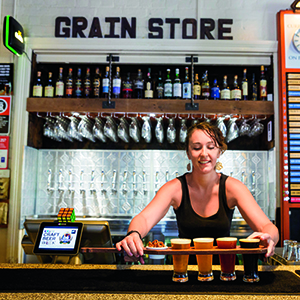 Drink up
With more than 150 wineries, restaurants and tasting rooms, sweeping landscapes and mobs of kangaroos, there's a lot to love about the Hunter Valley. Australia's oldest wine region is rightly famous for some of the best vintages in the world – its celebrated Semillon and Shiraz, elegant Chardonnay, Cabernet Sauvignon and Verdelho. But there's so much more: paddock-to-plate produce; forward-thinking chefs; luxe places to stay; stunning scenery. They've been making wine around here for more than 150 years (thanks to James Busby, the Brit who also drafted the Treaty of Waitangi) and few names are better known than Tyrrell. Still family owned after more than 145 years, a trip to the winery offers a cellar-door tasting of award-winning wines, viewing the old oak vats and historic red cellar still used today, and Edward Tyrrell's original iron bark hut from 1858. With the fifth generation working among the vines, Tyrrell's has been awarded over 5,000 trophies and medals since 1971. Krinklewood has a different flavour. It's a certified biodynamic organic, family-owned vineyard where every aspect is managed in a holistic and sustainable way. Its French-inspired winery is set among beautiful Provençal gardens, urns and fountains, nestled in the stunning Broke Fordwich Valley.
The Hunter Valley has 60-plus eateries serving al fresco meals in vineyards, stylish hotel restaurants and places with stunning bushland views. Artisan producers and chefs pride themselves on the region's fresh produce – local olives, oils, cheeses, poultry and beef. Muse is one of Australia's finest regional restaurants, while Bistro Molines' wrought-iron chairs and candelabras, paved courtyard and vines speak 'Provence'.
It might come as a surprise, but the Hunter is not all about wine. The region has several award-winning breweries – yes, there's an ale trail tour – and a distillery with dynamite gin, vodka, schnapps and other liqueurs.
Water babies
There's a reason that Port Stephens – the region's coastal playground – has the tagline, "PS – I love you". Many reasons, actually: twice the size of Sydney Harbour, with 26 stunning bays, it may be the best Australian beach holiday spot you need to know about.
Adventurers can scuba dive with grey nurse sharks, ride horses beside crashing waves or take on a coastal hike. Families will love snorkelling in gentle bays and searching for koalas. Experienced surfers are attracted to the wild waves at Zenith Beach, as well as Wreck, Box and Samurai beaches. There are plenty of beaches for families, too. You can hire a surfboard or stand-up paddleboard; other seaside activities include sunset camel riding and sandboarding down Stockton Bight dunes. Swimming with dolphins is a major attraction, with more than 140 bottlenose dolphins living in the area. One of the best places to see a koala in the wild is Tilligerry Habitat Reserve.
Nelson Bay is the hub of the region, with a great range of dining choices in town and at the marina. To get your fix of freshly caught local seafood, book a table at Mavericks on the Bay, at the marina. For fine dining head to the Little Beach Boathouse, where you'll enjoy a beachside setting, local produce, modern Australian cuisine – as well as local products to take home.
Getting there: From 21 November 2019 to 16 February 2020, Virgin Australia will fly between Auckland (departing 5.10pm) and Newcastle (departing 7.30pm) three times a week, on Tuesdays, Thursdays and Sundays. Special fares are available including a choice of economy and business classes, baggage, meals and streaming entertainment on personal devices.
We're focused on creating holiday experiences that fit you, rather than trying to fit you to an off-the-shelf holiday. That means we take the time to listen carefully to what you're looking for in a holiday. We're people, just like you, with a real passion for travel.
Click here to see our latest deals to Newcastle
Blog & Image Copyright: MiNDFOOD Magazine (November 2019 Edition) & Destination NSW