When we went to Peru, it was everything I hoped for and more. The people were friendly, the scenery was stunning and the history and culture was colourful and fascinating. That's before I even started on the food, which was exceptional.
If you like shopping for local goods, make sure you allow some time for this. There are lots of markets and souvenir stores around. Peru is known for its metals so there are lots of great jewellery stores around. You get a better rate in the local currency so change your USD over at a local trader or the easier option is take out money on your debit card from an ATM. We preferred shopping in the local markets and some of our favourite gifts were Alpaca goods such as blankets, socks and jumpers. We also got some local art which was amazing and salt from the salt mines we visited. The souvenir markets are endless and overwhelming so don't worry there is something for you! Do remember you are able to barter and we were able to get down to about half the original price they offered.Peru is very different from New Zealand in many ways and the biggest difference is the altitude. While some of our group took altitude pills, we discovered other useful ways of coping with the change of atmosphere. Hydrating with drinks like Gatorade, drinking the famous coca tea and taking the first day nice and slow were our ways of handling the altitude. I would recommend taking a hat, sunglasses and sunscreen but also keep in handy some extra layers. A rain jacket is vital as the weather can change quickly although we were blessed with sunshine the entire time! At certain times of the year mosquitos can be present at Machu Picchu as well so it's important to remember this. But if you do forget anything, not to worry, there are plenty of places to buy anything you need at great prices.
We were even lucky enough to do a cooking class to learn how to bring some of their techniques back to our New Zealand dinner tables. One thing we can definitely attest to be true about Peru is their amazing cuisine. We felt like we were always full in Peru because the food was so good! They have some famous dishes featuring ceviche, alpaca, and guinea pig, if you can handle it. They also have a famous cocktail called Pisco Sours which is hard to avoid. The food is great value so make sure you are as adventurous as possible and try all the traditional food.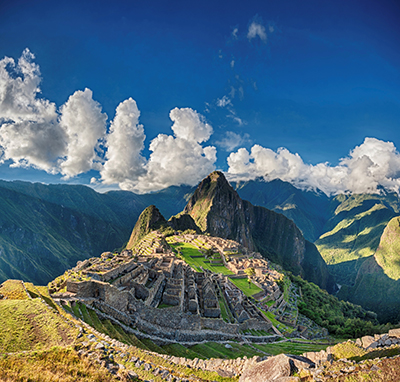 Apart from the food there were two big highlights for us. First was Machu Picchu. The last known Inca Fort and set in the most dramatic location. No wonder nobody found it for hundreds of years! The second highlight was how smoothly our land trips went. With our own guide and driver nothing was a problem and we had so much flexibility.
I would highly recommend going to this fantastic country. With Peru being soaked in history, I learnt so much and felt really connected with the country by the time we left. On one of our last days we were lying on a hammock in the Sacred Valley and made a deal to come back to Peru and complete the Inca Trek!
Click here to see our latest deals to
South America
Blog & Images Copyright: Adventure World