Melbourne is a sophisticated cosmopolitan city, fantastic for fashion and retail shopping major sporting and cultural events and world renowned for its excellence in food & wine. If you're a foodie then this destination is definitely for you.
It's easy to eat your way around the world in Melbourne with a myriad of cuisines, including a strong Greek & Italian presence.
Here's just a few of my favourites that you can delve into.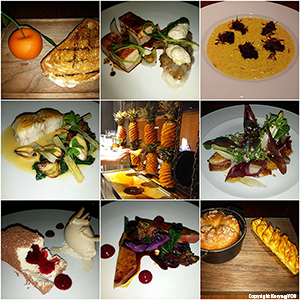 Dinner by Heston – You don't have to go to London to sample the wonderful creations of the master of molecular gastronomy, Heston Blumenthal. Located in the Crown Entertainment Complex and situated on the Yarra River you'll be in prime position for the Gas Brigade towers that shoot fireballs into the night sky on the hour. Heston's menu is inspired from facts, events & recipes dating back as far as the 13th century and the cuisine incorporates both Australian & British history. From the moment you enter the dark hallway the excitement of the experience begins. If you tend to look at the dessert menu first, in this instance this is a necessity as if you're wanting to try the famous Tipsy Cake (c.1810) accompanied by Spit Roast pineapple, then this needs to be pre ordered first. The iconic Meat Fruit (c.1500), a silky smooth chicken liver parfait encased in a mandarin jelly, made to resemble the fruit itself is also not to be missed. The food, wine & cocktails were exquisite and topped off by impeccable and friendly service which made for an amazing 5 star experience.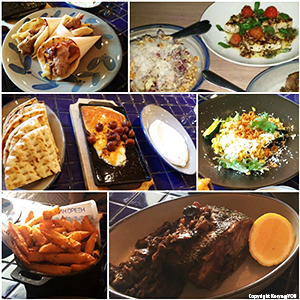 George Colombaris has made his mark on Melbourne with something for everyone from the intimate fine dining at The Press Club, the fun casual vibe of Gazi & for a quick bite Jimmy Grants souvlaki bar. In between these fits the authentic Greek tavern style Hellenic Republic and although a very different experience from Heston's in food and atmosphere I enjoy Hellenic just as much which is probably why I'm drawn back each time I visit Melbourne. My favourites: Rich, creamy & sweet Saganaki with peppered figs, Taramosalata (the pink version that you buy in stores pales in comparison to this amazing white cod roe dip) and succulent slow roasted lamb.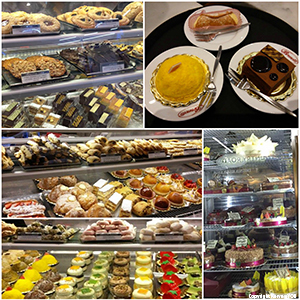 Brunettis - A few kilometres away in the suburb of Carlton you'll find Lygon Street, the heart of 'Little Italy'. As well as authentic restaurants it's also about great Italian meat, cheese, breads, coffee, wine and gelato. If you have a sweet tooth Brunetti's should not be missed and in the weekend they're open until midnight giving you plenty of time to indulge in a little something from their decadent cabinets. If you don't make it to Lygon Street, Brunetti's can also be found in Flinders Lane, in Myer on Bourke Street and in Melbourne Airport.