Whether it's for five days or five weeks - a cruise can cater to the tastes and preferences of just about anyone. For families, a ship can cater to all generations and will be something your kids will never forget. For couples, it's a memory that will live on through dazzling photographs and fondly-remembered stories. For the solo traveller, it's the perfect chance to meet new friends from across the globe.
Really, it's the best of both worlds - relaxing and lounging while at sea, while still ticking off your bucket list and etching up the list of visited countries all at once. Here's why now's the time to do it.

1. You constantly arrive in new destinations - but put in no effort to do so
Hate trying to figure out how to get to your next destination on a trip, where to stay and what to do? On a cruise - that's all organised for you. You go to bed in one place and wake up somewhere new. This means no checking bus timetables, no scouring reviews for advice, and no stressing as you sit in traffic while the seconds tick closer to your next flight leaving. As long as you're good with knowing exactly when to be back on the ship for departure from your latest port, just sit back and relax.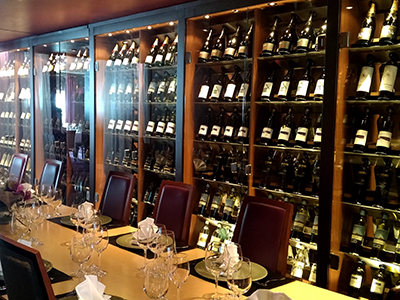 2. You don't have to go looking for a restaurant or bar - they're moving with you
Hate the feeling of happening upon a great restaurant or bar in one city, and then having to move on the next day and never see it again? Well, luckily for you, on a cruise - all of the facilities are also along for the ride. This means no wandering the streets for a good place to eat at an ungodly hour of the night, no awkward language barrier that leaves you with part of an animal you never asked for on your plate, and no endlessly scrolling TripAdvisor for inspiration before heading out for dinner. It's all in the same place every day.

3. The sea might not be appealing, but your pool probably is
As you're chugging along over the high seas, it's maybe a bit tempting to just scale a barrier and take the plunge for a quick swim. But you needn't worry about the feasibility of a dip in the ocean, because many any cruise ships offer multiple options, some including indoor pools and hot pools perfect when you're cruising in cooler climates.
4. You're on a ship, but you shouldn't have to worry about seasickness
These ships are so big, so absolutely monumental, that waves capable of rocking it back and forth need to be really big. Don't get us wrong, that definitely happens - but most of the time you should be subject to a gentle steaming along the ocean rather than a nausea-inducing rocking.
5. You don't need to worry about changing and carrying big wads of foreign currencies
Onboard it's a cashless society and anything you purchase onboard will be charged to your onboard account. Most cruises include all main meals with the exception of some speciality dining, however there are lines that are fully inclusive of drinks and shore excursions too, so you only need a little bit of cash or your credit card when going ashore.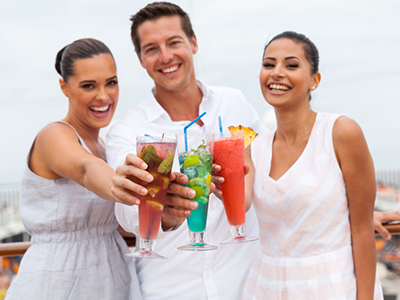 6. It's always cocktail hour
Even at 10am! For some reason, it's just culturally acceptable to be sipping a martini in the late morning (or early, whatever tickles your fancy) onboard a cruise liner. Grab a book, sit poolside and relax with a beverage - we guarantee you won't be the only one doing so at any hour of the day.
7. It's a glam holiday, and affordable!
Has anyone ever not replied with a wistful gaze, an extended "ooooh" and unconscionable jealousy when replying to someone who is telling you about their impending cruise? It's long been seen as the holiday of those who live in the lap of luxury, but in recent years the plethora of options has made cruises more accessible to the everyday public too. Cruises now cater to every calibre of traveller. The young and party-hungry: Check. The work-fatigued and burnt out: Check. The "we've given the kids to the grandparents for two weeks": Check. The romantics: Check. The romance-averse: Check. Check. Check.

8. You're flush with options, no matter the weather
There's nothing worse than showing up in your dream destination and having the weather completely turn on you so you can't actually get - or see - outside to enjoy it. Luckily, if you're on a cruise, you won't be cramped up in your small hotel room all day - there's still a rabbit warren of activities to explore under the comfort of a sturdy roof. Feeling lazy? Go to a movie at the cinema. Feeling active? Take a yoga class or try a bit of ice-skating. Feeling worthy of some TLC? Head for the onboard boutiques or spa. And you never once have to step into the driving rain like the landlubbers you can see from the ship.
9. It's a day, and night destination
By day, you're effectively at a beach resort, or another equally as scintillating daytime destination. By night, the decks transform into a scene more akin to Saturday night in a bustling city; bars and restaurants offer differing takes on a range of cuisines, live music streams from impassioned jazz bands and solo crooners, and the drinks flow in every direction. The attractions change too, so check out things like culinary demonstrations and wine tastings, and cultural activities like art galleries and dance classes.
10. Have your land excursions all prepared for you, or take off on your own
When you're docked at a destination, you'll usually be offered all-inclusive tours for a set price, where a tour guide shows you around all the best sights, and you don't need to worry about a thing. However, if you want to go exploring grab a map from reception venture out at your own pace.
11. Nowhere else can you pull off the 'I'm flying, Jack' pose a la Kate Winslet
Get to the bow of the ship, stretch out your arms and unleash that Titanic fan inside.