Rosalind Chapman
Managing Director
Hi, I am Ros Chapman, Managing Director and shared-owner of YOU Travel Feilding. I still get a great kick out of seeing our clients walk out with smiles on their faces. With an additional two Senior Consultants, an Intermediate, Administrator and Receptionist we have years of travel experience between us and we are still passionate about what we do. We all have different life and travel experiences but at the office we act as a team, with a focus on providing the best possible value for money, free of the usual issues that the traveller can face. I am confident that our clients regard us as experts.
Countries I have visited - Australia, Rarotonga, Fiji, Tahiti, New Caledonia, Vanuatu, Hong Kong, China, Thailand, Singapore, Malaysia, Cambodia, Vietnam, U.S.A, Hawaii, Mexico, England, Ireland, Scotland, Wales, France, Spain, Portugal, Italy, Greece, Czech Republic, Poland, Germany, the Netherlands, Russia, Peru, Argentina, Namibia, India, Morocco, UAE, Turkey, Egypt, Croatia, Switzerland, Hungary, Tanzania, Kenya, and for 2020 adding Finland and Ukraine.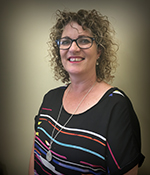 Leah Morresey
Senior Consultant
I am a senior consultant at YOU Travel Feilding and started here in April 2004 (when it was United Travel). 'With the passion I had for the industry, I knew that learning and working hard, gaining clients' trust and building relationships, provided the potential to excel.'
More people are looking for experiences outside the boundaries of the day to day life, increasingly providing opportunities for travel agents.Most people are time poor, so the expertise I offer not only brings to the table new and fresh ideas but also quick and clever booking solutions.For example, food is a bigger and more important part of clients' travel experience. It's a big way of experiencing a new culture and with all the social media now, this helps people share their experience. So the visual elements are also more important.' Having knowledge about these experiences is retail consultants' 'power against the internet'.Flight prices and new direct destinations have had a big influence on travel and on making the word more accessible – both cost and time wise. This reflects on to our office – which is always busy throughout the year.
Countries I have visited - Australia, Rarotonga, Fiji, Niue, Hong Kong, China, Thailand, Singapore, Malaysia, Dubai, ,Cambodia, Vietnam, U.S.A, Canada, England, Ireland, Scotland, Wales, France, Spain, Italy, Greece, Austria Czech Republic, Germany, the Netherlands, Turkey, Croatia, Switzerland, Hungary , French River Cruise , New England, The Inside Passage, Alaska