We will be open from Monday May 18
In the next few weeks, it is imperative we all keep following the guidelines provided by the government to remain safe. If you would like to visit us in person, please email us to make an appointment so we can ensure we maintain the safe distance protocols.
Welcome to the Bay's most awarded, largest and longest serving travel company - where we are all about you! We are here to enrich your travel experience and to make your life better. Our newly renovated YOU Travel Katikati store has 6 staff that specialise in Leisure, Business and Luxury travel.
YOU Travel Katikati is centrally located right in the middle of the Katikati main street, bringing professionalism and excellence in travel to this wider community. Darryl Tapsell heads up the team and brings more than 20 years experience in the travel industry to this hugely successful store. The combination of personal travel experiences and wealth of knowledge shared between these travel guru's, means that Katikati's community has the very best of expertise right on their back door step.
The Katikati store is one of three travel stores fully owned by local ladies Kay Rogers and Catherine Membery who work hands on in their business. Overall this company is the largest privately owned travel company in the wider Bay of Plenty and this brings additional benefits to clients who choose YOU Travel. We also offer Finance on travel and an exclusive local Rewards Scheme. Come visit us to see why our clients say we are the best in the Bay!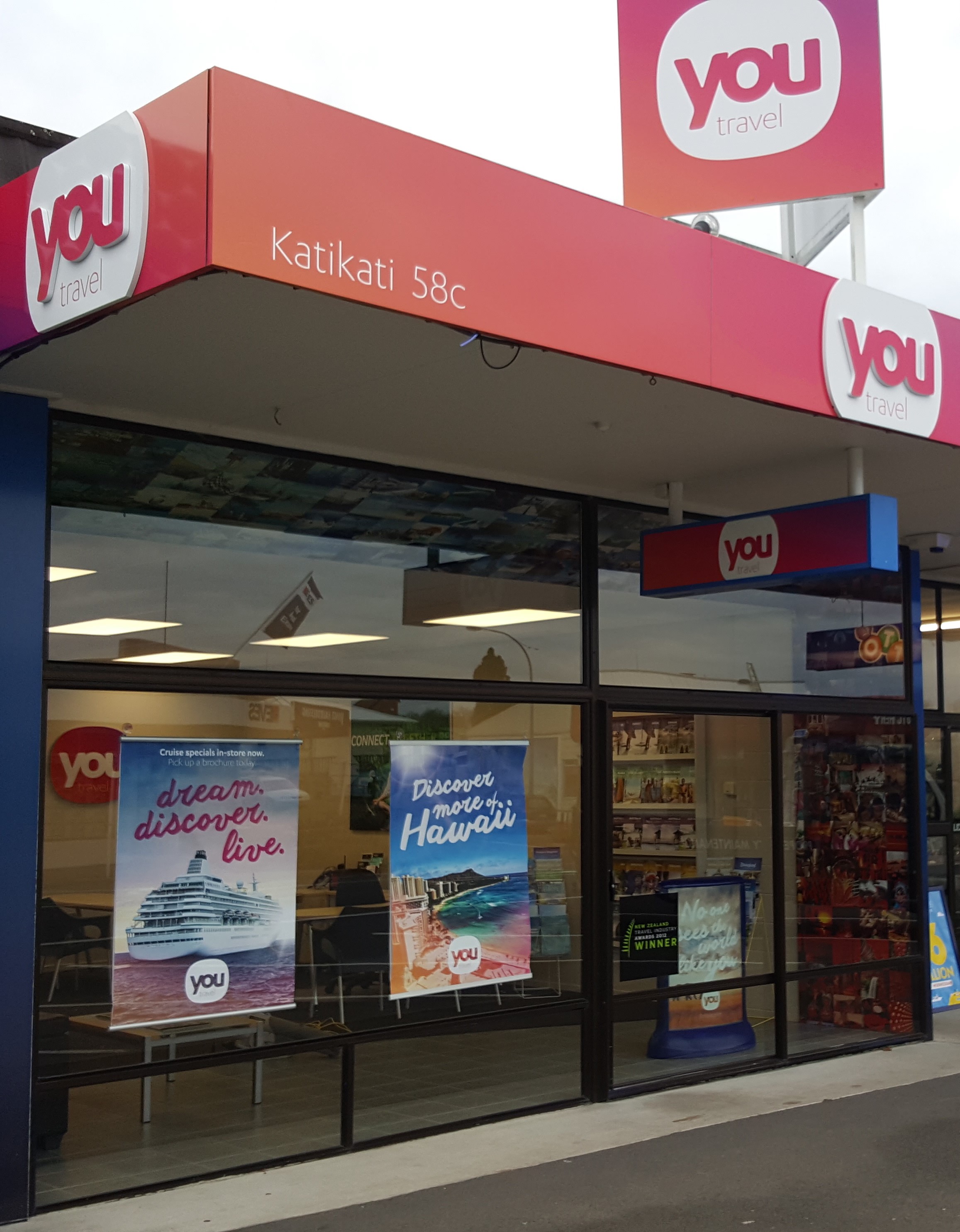 2016 Awards:
TAANZ National Travel Industry Award - Best Brand Retail Multi Location
Westpac Tauranga Business Award - Retail Excellence Large Business
Team Local Limited has had a relationship with YOU Travel since 1999. Since that time we have been involved with arranging hundreds of travel arrangements of varying complexities for our members. We have always found the team at any of the YOU Travel outlets (Katikati, Bethlehem, Mount Maunganui) to be most helpful and obliging. Without exception they all display an amazing knowledge and passion of the travel and accommodation industry which is invaluable when planning a trip whether for business or pleasure. We have no hesitation in recommending YOU Travel to any prospective traveller.
David Hodgson, Team Local